Dunlop's Geomax MX51 replaces the venerable D756 soft-intermediate terrain tire and it exceeds every aspect of the old tires performance.
MX 51 Intermediate Terrain Tire - New design profile with "more volume" for excellent cornering grip and improved ride comfort
Recessed biting edges for greater cornering traction and rut performance in a wider range of terrain conditions
Tie-bar for increased block stiffness and recess design for improved medium-to-harder terrain performance
Unique "cross stitch" shoulder block distribution for better traction and grip in medium-to-medium-hard conditions
Enhanced land/sea ratio and a wider tread profile for improved traction
Larger radius block base for strength and increased durability
DUNLOP Geomax 80/100-21TT 51M MX 51 front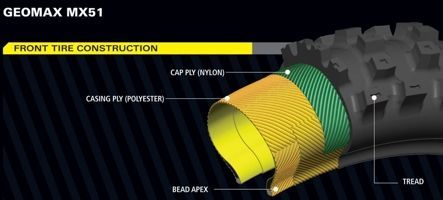 DUNLOP GEOMAX 110/90 - 19 M/C TT 62M MX 51 rear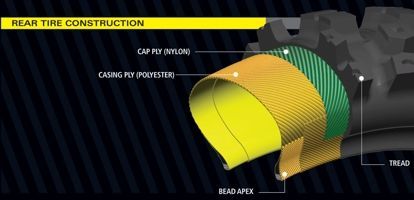 ===========================================================
The Dunlop Geomax MX31 replaces its tried-and-true D773 tire, specifically designed for really soft terrain such as sand or mud. Similarly to the Geomax MX51, the MX31 uses a stiffer carcass and sidewall for improved stability and cornering bite. A new tread pattern shares some features found on the MX51 such as larger reinforced tread blocks as well as the optimized block distribution in the middle and side parts of the tire. Since the MX31 is designed for use on the softest terrain you can find, the tread blocks taper to a smaller point which allows the knob to penetrate through soft surface layers and grab the firmer ground beneath.
After his first ride on them, Supercross Lites East champion Trey Canard called the Geomax, "like a 756 on steroids." Other pro riders, like Andrew Short have been running the new generation Dunlop tires at the races for a few years now. They're sold on them – but how about us mere mortals?
The soft, wet soil at Perris Raceway for Dunlop's ride day was like wallpaper glue and to be honest, even an chunked-up desert tire probably would have stuck like velcro. So our testing will continue before we officially report on the Geomax's performance. At this point, so far so good, and we can say that they feel a lot like D756's – which, as we all know, is damn good!
Geomax MX31

front rear
2.50-10 33J 2.75-10 38J
60/100-14 30M 80/100-12 41M
70/100-17 40M 90/100-14 49M
70/100-19 42M 90/100-16 52M

Geomax MX51

front rear
2.50-10 33J 2.75-10 38J
60/100-14 30M 80/100-12 41M
70/100-17 40M 90/100-14 49M
70/100-19 42M 90/100-16 52M
80/100-21 51M 100/100-18 59M
110/100-18 64M
100/90-19 57M
110/90-19 62M
motorcycle tyres tirs, motorradreifen, pneumatici moto, moto pneus, neumáticos moto, pneus mota, motorbanden, mc daek, mp renkaat, pneu motocyklové, motorgumik, anvelope moto, opony moto, pnevmatike moto, motocikla riepa, padangos moto
KOMA